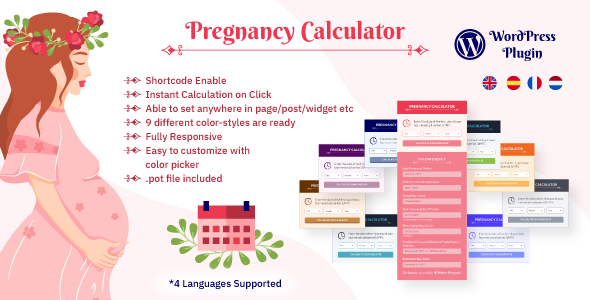 WordPress Pregnancy Calculator Plugin
Brief about WordPress Pregnancy Calculator :
The title can explain major parts of activities when term Calculator is mentioned and this pregnancy related calculator is available in many sites or we can find many online tools. But, this is the one and only plugin available to work in WordPress site. This is very easy to use for displaying any Pregnancy related information within few clicks. Not only that, this plugin has excellent design outcome to set any kind of WordPress sites. Besides, this plugin is completely user friendly, ease of use and responsive. It can be set in page, post or widget wherever you want to display. This plugin supports 4 major languages and it is automatically sets with site languages.
What this plugin actually does ?
This WordPress Pregnancy Calculator plugin allows users to display an estimation of schedule along with pregnancy related informations based on the provided date. Plugin provides a very easy shortcode to set anywhere in site. Now question may arise how result will display. Answer is very simple. User provide Date and click calculate button, the result will shown up instantly.
Now we can talk about design outcomes. There are many pre-defined designs available to choose from admin settings. But, user can change some design colors as custom with few clicks from backend. Another
The things we need to know only the date of the first day of your last menstrual period (LMP). Plugin has functionality to make all types of calculation. It is very simple and light-weight to place anywhere in page, post or sidebar widget. Users are able to change each label of the form but can't change result area.
Besides, this Pregnancy Calculator may be used to calculate the best date range to book a Nuchal Translucency Scan and Morphology Scan :
– NT scan may be performed between 11wks–13wks 6 days (CRL 45-84mm) however as individual babies grow slightly differently and to visualize the foetal bladder and heart the very best range is 12wks 3days to 13wks 3day
– Morphology scan is best booked after 19wks but before 22wks.
KEY FEATURES :
Shortcode Enabled
Instant Calculation
4 languages supported
Can set anywhere in page/post/widget with multiple setup
Ready made 9 Styles/Design
Easy setup & Ease of Use
Customize Option for labels & colors
Clean design and fully responsive
All Major browsers compatible
Quick updates & fast support
There are more plugins available. Please visit here.